Costa Cruises, which began as a fleet of freighters transporting fabrics and olive oil between Genoa and Sardinia in the mid-1800's, became a fully owned subsidiary of Carnival Corp. in 2000. And while it's an Italian company with a modern fleet of ships, worldwide itineraries and a distinct Italian personality, its fortunes took a tragic turn in January 2012 with the capsizing of Costa Concordia, which claimed 32 lives and quite possibly forever changed the line.
The Costa fleet sails under the "Cruising Italian Style" banner; its international family of ships spans the globe offering cruises of seven days and longer throughout the Caribbean, the Mediterranean, Northern Europe, the Arabian Gulf, Asia, the Indian Ocean and trans-Atlantic.
"Cruising Italian Style" can be interpreted two different ways. Some passengers have disliked Costa because of the extensive smoking aboard their ships, but following Italian government regulations ashore, Costa has severely limited smoking to designated areas in lounges. Dining venues are now smoke-free. Other travellers overlook these factors and enjoy the European atmosphere — after all, Mediterranean-influenced cuisine, regional wines and warm, rich decor are all part of the Italian tradition.
Alas, Italian stewards, part of the line's heritage, are no more. Cabin and dining room stewards are now as multi-national as the passengers, with Filipinos, South Americans and Indians in the mix. As they speak English, the former criticism of English-speakers that they were not understood has been ameliorated.
Costa is easily Europe's most innovative cruise line, with an aggressive building program. In July 2006, the line launched Costa Concordia, which was followed in May 2007 by sister ship Costa Serena. Sister ship Costa Pacifica debuted in June 2009.
In addition, the line offers a vacation guarantee program that allows passengers unhappy with their cruise the chance to disembark at the first port and get a refund. It also provides senior discounts via AARP, as well as very successful weddings at sea and golf offerings.
In an exciting move, Costa designed a prototype ship that actually is smaller — Panamax sized — than its Costa Concordia class. The 92,700-ton Costa Luminosa, which was unveiled in May 2009, was the first to launch, followed by Costa Deliziosa, its sister, in January 2010. These twins represented a more upmarket cruise experience. In July 2011, the line welcomed the 114,000-ton Costa Favolosa, complete with pirate galleon and waterpark; its twin, Costa Fascinosa, will follow in spring 2012.
In August 2011, Carnival Corp. announced that it had signed an agreement to build a new 132,500-ton, 3,700–passenger flagship for Costa, which will debut in 2014.
Costa Cruises Fleet
The line introduced its North American flagship, the 984-passenger Costa Riviera in 1985. It was this vessel that launched the line's memorable "Cruising Italian Style" theme, which is personified onboard all of Costa's ships.
The nineties proved to be a decade of enormous development for the company, which welcomed Costa Marina to its fleet in 1990, Costa Classica and Costa Allegra in 1992, Costa Romantica (sister ship to Costa Classica) in 1993 and Costa Victoria in 1996.
In July 2000, the 2,680-passenger Costa Atlantica made her debut in Venice as the largest ship ever built by a European company, and the first of Costa's ships to feature balconies. It also heralded the company's new "age." As part of Carnival Corporation, Costa Atlantica was the first to offer the Carnival Cruise Lines design sensibility (indeed it was designed by Carnival's ubiquitous Joe Farcas, who has had a hand in every new-build since).
Costa has benefited by its Carnival Corporation ownership in the expanded fleet department. Costa Europa, formerly Holland America's Westerdam debuted in 2002. And as the line embraced its largest-in-history fleet expansion, Costa debuted Costa Mediterranea, a sister ship to Costa Atlantica, in June 2003.
Costa Fortuna was launched in November 2003. The 105,000-ton, 2,720-passenger ship was at the time the largest ever to fly the Italian flag; Costa Magica, its sister ship, premiered in November 2004. The ill-fated Costa Concordia, a sister ship, was launched in July 2006. In May 2007, Concordia was joined by sister ship Costa Serena, and in June 2009, Costa Pacifica joined the siblings.
But 2009 also brought the first of a new prototype. The 2,260-passenger Costa Luminosa is actually smaller than its siblings and is meant to be an upmarket twist on the Costa experience. Costa Deliziosa, a sister ship, joined Costa's fleet in January 2010.
Costa's in the midst of an impressive building boom. Two more ships — which are fleetmates to the Costa Concordia design family — have debuted or are about to; Costa Favolosa premiered in July 2011, while Costa Fascinosa launched in 2012.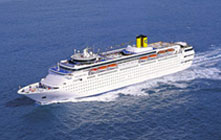 Costa Romantica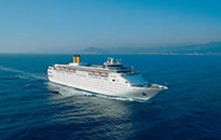 Costa Classica